Welcome to Rivers of Mercy Children's Home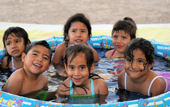 We are a Christ-centered orphanage in the colonia of Anapra in Juarez, Mexico. Our desire is to show Christ's love to the neglected, mistreated, and suffering children in this area. We want to provide these children with a safe home where they feel loved and where they can know the love of Christ. Just as God pours out His mercy on His children, we desire to demonstrate Christ-like mercy to these needy children of Juarez.
We received our first children in May of 2007, and since then God has continued to bless this ministry as we make a difference in the lives of hurting children. It brings us great joy to see the changes that take place in them here at the children's home. They become children who are happy, feel special and loved, feel secure in a family, and know the love of Jesus. We have the capacity to accommodate sixty children (ages 3-10), but we need the prayers and support of people who have big hearts for God and for children to make this possible.
The children at the orphanage are precious and are a tremendous blessing!